The IESE MBA, ranked #3 globally (The Financial Times, 2023) offers a rigorous and flexible 15-19 month program for professionals aiming to transform their careers. The program made news this year when it was ranked #1 in the Poets&Quants MBA rankings.
The class size of the IESE MBA 2022 cohort is 350, with the average pre-MBA experience being 5.4 years. ~85% of the cohort is international, with participants from Europe (31%), Asia (24%), North America (20%), Latin America (20%) and Middle East & Africa (5%). The average age is 29, and women comprise ~35% of the cohort.
While there is no official GMAT score cutoff, the acceptance range is 580-750, with the average being around 690. The GRE acceptance range is Quantitative: 143-170, Verbal: 143-170. The Verbal Median is 156 and the Quantitative Median is 161.
95+% of IESE MBA candidates typically land jobs within 3 months of graduation. The program has a strong focus on cross-cultural learning experiences, general management, leadership and entrepreneurship.
Arvind Kumar (founder of admitStreet) interviewed Tomofumi Nishida, Deputy Director, MBA Admissions at IESE Business School, to cover topics ranging from the IESE MBA admissions process and academics to post-MBA careers, scholarships and other lesser-known aspects of the program.
Tomo is also an alumnus of the IESE MBA (2016 graduating class).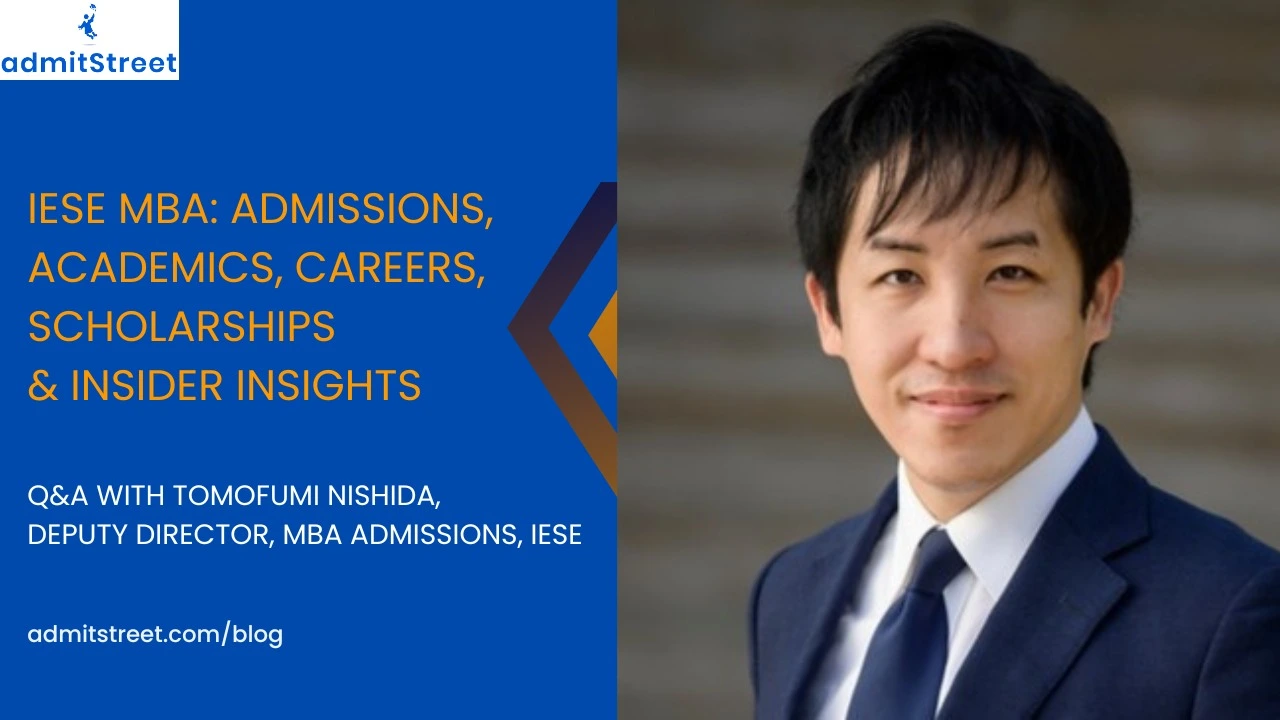 Q&A with Tomofumi Nishida, Deputy Director, MBA Admissions, IESE
IESE MBA Admissions: Steps, Essays, Interviews
admitStreet: Thank you for taking the time, Tomo. To start with, could you decode the process of how IESE applications are evaluated? Who evaluates them, and what are the steps involved from when an application is received to when a final decision is rendered?
Tomo: IESE's admissions committee carefully reviews all the applications we receive.
First, we hold a pre-committee meeting where we create a list of candidates who will be invited to move on to the next stage. This selection process involves a thorough evaluation of all the application materials, including the new addition of video essays this year.
After this initial phase, the next steps involve a one-hour interview and participation in the Assessment Day.
It's important to note that not all applicants will be invited to the Assessment Day. However, this invitation (or lack thereof) is not a judgment of your overall suitability. It simply means the Admissions Committee wants to learn more about certain candidates.
In summary, the interview or the Assessment Day represents the final steps in the application process for the IESE MBA program. We strive to make a well-informed decision about each applicant's potential to thrive in our program.
admitStreet: The application now consists of video essays, replacing the traditional written essays. Any tips on how applicants can practice and prepare for the video essays, and what are the skills being assessed?
Tomo: Applicants are still required to write an essay about their career goals, and there's an option to submit additional essays, including one for scholarships.
We've introduced video essays because of the rise of AI technologies like ChatGPT. We want these videos to capture the real you, your authenticity.
Interestingly, there's a resemblance between the video essay and the interview stage. So, if I were in your shoes as an applicant, I'd really focus on preparing for an interview, especially the second question is random, but it carries more weight than the first, which is basically just an introduction.
Once you're prepared for an interview, it should go pretty smoothly. In the meantime, you only get 60 seconds to prepare for each question and 90 seconds to respond. It's not quite like a natural conversation.
We'll be looking at your communication skills and how you structure your answers, but we get it, it's a tight timeframe. Don't let that stress you out too much, though. We know you can't craft a masterpiece in such a short time. So, take a deep breath, and remember, we're looking for the real you.
admitStreet: Tell us about the interview process once a candidate is shortlisted. Who conducts the interviews, and what are the key aspects being evaluated?
Tomo: Your interviewer might be a member of our admissions committee, usually an IESE graduate, or an alumnus who's been handpicked through a rigorous selection process.
The key thing here is that we try to put ourselves in your shoes. We want to figure out if you'd be a good fit for our community, what unique perspectives you can bring, and who you are beyond what's written in your application.
Now, while we all follow the same criteria for evaluating applicants, how we apply those criteria can vary depending on the interviewer. We each have our own approach.
One more thing to highlight: we're a mission-driven business school. IESE is committed to the development of leaders who aspire to have a positive, deep, and lasting impact on people, firms, and society through their professionalism, integrity, and spirit of service.
When we assess you, it's not just about your professional skills. We're also interested in your personal qualities and character – what makes you stand out as an exceptional individual.
admitStreet: Could you share some insights about the Assessment Day? If a candidate is invited, what can they expect (e.g. what activities would it involve)? How can they prepare?
Tomo: Let's split it into two main categories.
First, we have the case method. Here, it is all about teamwork and lively classroom discussions. We'll give you a case to study in advance, and you should really dig into it, thinking of yourself as the central character in the story.
The cases we pick are deliberately not overly technical, so everyone has a fair shot, whether you come from a specialized background or not. This part of the process is a taste of what it's like to be an IESE MBA student in your day-to-day life.
Now, the second type skips the case study altogether. In this case, you don't need to do any prep work beforehand. Just show up on time at the designated spot, and we'll give you all the instructions you need right there. It should still involve teamwork, but we like to keep things fresh and innovative, so this part can be a bit less predictable and more spontaneous.
No matter which type of assessment you encounter, if you haven't had much exposure to international environments, it's a good idea to seek out group settings where people are from different countries to get more comfortable.
It doesn't have to be something super formal – just being around people from different backgrounds can help.
admitStreet: What is your advice for applicants who have a less conventional background (e.g. age above 30, low GMAT/ GRE, arts/ social-sector degree) or career path (e.g. multiple job switches) on how they can make their application stand out?
Tomo: Diversity is an integral part of who we are. Having a mix of people from different backgrounds really amps up the quality of our case discussions. Even though cases are packed with information, they can sometimes leave out crucial details. That's why we love getting insights from our diverse bunch of students.
They bring unique perspectives based on their varied experiences. So, if you're applying, don't shy away from your uniqueness. It's what makes you, well, you.
Now, about those GMAT/GRE scores – don't sweat it too much if they're not perfect. We fully understand educational systems vary worldwide. You can boost your application in other ways.
You can also update your test scores even after you've applied, up until we make our final decision. It might be a good idea to chat with one of our Associate Directors responsible for your region to figure out your best strategy.
If you've hopped around between jobs in your career, you can explain why in your application, either in an optional essay or during your interview, depending on how the conversation flows.
Keep in mind that we look at your application as a whole package. So, don't give up just because you think one part of it might not be as strong as the rest. We're all about the big picture.
For all other details regarding the admissions process, you can check Must Knows for IESE MBA Application for Sep 2024 intake.
IESE MBA Academics: Curriculum, International Exchange
admitStreet: There is an option to complete the program in 15 or 19 months. What are the key differences between the two variants, and what factors should candidates consider while choosing?
Tomo: Whether to do an internship while you're in the program is a game-changer. Your tuition stays the same between these two options. Living in Barcelona for four months might sound like a difference, but the money you earn from that summer internship can pretty much cover those living costs.
Internships are a golden opportunity for MBA students. They let you shake things up in your career, like changing locations, industries, or roles.
The bigger the change you're aiming for, the longer your program should be. With our internship in the middle of our curriculum, you can pivot your career completely, even after you get a full-time job offer from the company through the summer internship. That's not something you'll find in a one-year MBA even if there is an option to do an internship.
But, there's a shorter 15-month option without an internship opportunity, too. It could make sense if you're heading back to a family business after graduation or if your sponsoring company wants you back sooner.
Just remember, if you go with the shorter program, you might miss out on some activities, like certain International Modules in January and club activities as a core member.
The cool part is you don't have to make up your mind about the program's duration when you apply. You've got six months after you enroll to decide. No rush!
admitStreet: Tell us about the Case Method of teaching that IESE follows. In the brochure, there are some interesting names like the Google, Adidas, and Spotify case studies.
Tomo: When you're in our program, you'll often step into the shoes of a key player in a business scenario, like a CEO or CFO. Then, you'll have to make decisions based on that situation.
We do this a lot because it's a fantastic way to sharpen your decision-making skills, something super important for global business leaders. Picture this: You're in a class with around 70 students, each from diverse backgrounds. Your professor isn't your typical lecturer but more like a conductor of discussions.
This style makes up about 80% of our classes, though there are exceptions, about 20% of the time. For example, classes like Financial Accounting and Corporate Finance take a slightly different approach. This might be good news if you're not coming from a traditional background.
Now, you mentioned some trendy companies, and sure, we do look at those. But we also dive into older ones. The reason is, if we only focused on the latest issues, everyone would have the same assumptions.
We want to prepare you for the real world, where things aren't always straightforward. Sometimes, you'll face cases where your usual instincts don't apply. We also churn out over 100 new cases every year and use cases developed by other schools, too. So, it's not just about companies in the U.S. and Europe.
We dig into businesses from all over the world. When we say diversity, we really mean it, even in the cases you study.
admitStreet: For international exchange, which schools does IESE partner with? What is the process if a candidate wishes to do an exchange?
Tomo: We've got some wonderful partnerships with around 30 schools. Think big names like MIT, Wharton, Kellogg, Columbia, LBS, and a bunch more. And, we're not just limited to one part of the world – we've got options in Asia, Africa, Latin America, etc.
It's all about how you perform academically in the first two terms of your first year. The better you do, the more choices you'll have. Simple as that.
admitStreet: Are any modules or courses taught in your New York, São Paulo, Madrid, and Munich campuses? Or are these used as hubs to facilitate alumni and company engagement?
Tomo: Our Madrid and Munich campuses aren't connected to the MBA program. They're used for other programs.
We've got campuses in New York and São Paulo, and we use these for International Modules. These are week-long elective courses that take you out of Barcelona and into different parts of the world. It's like a mini adventure.
We also have locations in Mexico City, Hyderabad, Hong Kong & Shenzhen, and Nairobi. We don't own campuses there, but we've got partnerships that let us bring the IESE experience to these places. You can hop into some of these modules if you're up for it.
I did the one in Nairobi when I was an MBA student. It was exotic and unforgettable – trust me, you won't want to miss out!
Careers @ IESE MBA
admitStreet: As per the 2022 employment statistics, 33% of IESE MBA graduates landed a role in Consulting, 28% in Diversified Industries, 21% in Finance, and 28% in Technology. This is a well-diversified mix of career paths, unlike some schools which are inclined towards some sector(s). Tell us about the recruitment process, and how IESE maintains this diversified mix.
Tomo: Let me explain our Career Development Center (CDC) and how they've got your back during your MBA journey.
First off, we're all about empowering you to choose your path. We don't try to push you into a specific sector. Whether you're eyeing finance, tech, or something else entirely, the CDC has got you covered. They've got experts for each sector, plus other members who'll help you rock LinkedIn and network with external people, and more.
Now, one of the highlights is the Career Forum. It happens twice a year. It's not just for full-time jobs, but also for internships. Over 100 companies roll up to recruit IESE talent. Pretty much every MBA recruiter out there has IESE on their radar.
We've got regional fairs like the Asia Career Fair and LATAM Career Fair, too. Plus, the CDC teams up with Professional Clubs to organize career treks. Think Consulting Trek, Fintech Trek, Consumer Goods Trek, and more. These treks take you to key cities in those sectors, where you can rub shoulders with our alumni and top executives.
You don't have to skip MBA classes for these treks – they usually happen during holidays after exams and stuff. We also have some big on-campus events, like Global Energy Day by the Energy Club and PE&VC Conference by the PE&VC Club. They come packed with keynotes, panel discussions, case competitions, and lots of networking.
And, if you're targeting Japan or South Korea after graduation, I'm part of the team that's here to support you.
admitStreet: 22% of IESE MBA graduates last year managed to do a triple jump i.e. changed industry, function, and geography. Any specific tips for candidates looking to make a triple jump?
Tomo: As you mentioned, there are three major components to consider, and it's crucial to figure out which one takes the top spot for you.
The triple jump might sound like an incredible journey (and it truly is!), but I won't sugarcoat it – it's no walk in the park. One thing you might have to consider is the potential trade-off, like giving up a high salary to pursue it.
As you're figuring out your priorities, you might realize that the triple jump isn't your top pick. And that's perfectly fine. Not everyone needs to make that leap.
But if you're dead set on it, be ready to kick it up a notch. Use every resource the school offers. Chat with alumni who've pulled off a triple jump, especially if they came from a similar background. And don't give up too soon.
It's not unusual for friends to not have a full-time job lined up right at graduation. Around 95% of students lock in their post-MBA careers, but it's about what happens three months after graduation. It can be a grueling journey, but remember, your goal is loftier than most.
Your determination is your secret weapon. Keep that strong mindset, and you've got this!
admitStreet: Is it compulsory to learn a European language as part of the IESE MBA curriculum? For internationals with less/ no prior European language exposure, are there roles (e.g. PM, Finance) or geographies (e.g. Middle East) that are typically attractive?
Tomo: It's completely optional. We do have a Business Spanish Program (BSP).
Here's my story – I started with almost zero Spanish skills, but thanks to this awesome program and the longer MBA duration, I made some serious progress. So, even if your Spanish level is not that high or you don't know anything about it now, you can totally pick it up and reach a level where it opens up job opportunities that need some Spanish fluency. It all comes down to how committed you are to learning a new language.
Now, let's talk about job prospects. Sure, some companies in Spain might want you to speak Spanish, but not all of them. In fields like finance or tech, English can often do the trick. Consulting, on the other hand, usually needs that Spanish touch. However, we're not just limited to Spain. IESE has a solid presence in other places like Europe, Latin America, and the Middle East.
So, it's not just about your home country and Spain. Plenty of options out there!
Scholarships, Rankings, Tomo's MBA experience
admitStreet: Could you share some insights on how scholarship applications are evaluated? Are there specific dimensions in a profile that you look for?
Tomo: When it comes to scholarships, the Scholarship Committee looks at all your application components, so it's not just about your scholarship essay. It's mostly based on merit, but we also take your financial situation into account. So, don't be shy about sharing a bit about that when we ask – it helps us understand your needs.
We're aware of some notable differences between male and female applicants when it comes to salary and savings. So, we aim to be more considerate and fair to our female applicants in light of these differences.
We've got a set budget for scholarships each year, and we run four rounds. Typically, we're more generous with scholarships for those who apply early. But even in the fourth round, if we've still got some budget left and we spot some top-notch applicants, we'll try to make it happen. It's not super common, though.
If scoring a scholarship is a big deal for you, aim to apply on the early side. It could make all the difference.
admitStreet: Over the years, the IESE MBA has consistently climbed up the rankings (FT #3 MBA worldwide, 2023). What factors do you believe (e.g. placements, alumni network, pedagogy, etc.) have led to this rise?
Tomo: Let's dive into why IESE's ranking in 2023 is so impressive.
There are a few standout reasons: First up, it's all about the diverse, international vibes here. Our students and faculty come from all walks of life, bringing a crazy mix of professional backgrounds, experiences, and global perspectives into our classrooms. That means our discussions and networking opportunities are next-level.
Speaking of diversity, 88% of the IESE MBA class is from all corners of the world, and we've got a solid 37% of talented women. But it doesn't stop there. We're all about getting you that international experience. IESE ranks 5th in the world for giving you a taste of life beyond your home turf.
Now, let's talk about careers. Our Career Services rock the charts, landing us in 5th place globally. And it's not just about the school – our alumni network is super engaged and effective, earning us the 8th spot. And here's the icing on the cake – our alumni absolutely love their time at IESE.
We're talking small class sizes, lots of one-on-one time with faculty, and a tight-knit community. On average, our alumni rate their IESE experience a whopping 9.61 out of 10. That's some serious love right there.
And we're not just about business – sustainability is big for us. IESE's MBA ranks 2nd in the world for teaching about ethics, social issues, the environment, and climate solutions. Plus, we're all about shrinking our carbon footprint, coming in at 6th place globally. So, that's the scoop on why IESE's ranking is so top-notch.
We're all about diversity, career support, happy alumni, and saving the planet.
admitStreet: IESE is gaining increased traction for its focus on sustainability (ranked #1 globally in CSR by Financial Times, 2022). Share with us your thoughts on this topic.
Tomo: Our journey into sustainability isn't just a recent thing – it's deeply rooted in our history. We've been in the game for over 60 years, way before the world started taking sustainability seriously.
Moreover, we launched the Institute for Sustainability Leadership at our 2021 Global Alumni Reunion. This two-day event was all about diving deep into how organizations can step up to the plate and tackle sustainability head-on. We had some heavy-hitting executives and thought leaders on board. This institute is like our sustainability headquarters.
We've got research projects brewing, like IESE Cities in Motion, and we're part of Business Schools for Climate Leadership. Our goal is to keep pushing the boundaries of business knowledge, staying ahead of the game.
But it's not just at the institutional level. In our MBA program, we've got a whole Concentration dedicated to sustainability and responsible business. And we've got a student-led conference called Doing Good Doing Well that's been going strong for over 20 years. It's recognized as the top event on this topic among European business schools.
So, sustainability is in our DNA, and we're not slowing down. We're all about making a positive impact and leading the charge in this ever-important arena.
admitStreet: Interestingly, you are also an alumnus of the IESE MBA program (2016 class). Tell us about your experiences in the program, and any fond memories.
Tomo: It is easy to spend five hours on my answer to this question, but it can be a bit of a stretch. So, let's shift our focus to what really mattered to me.
Besides the Nairobi Module I mentioned earlier, I also got into a couple of Case Competitions. One of them went down in Mexico City, where eight different business schools, including IESE, teamed up to tackle a gnarly marketing challenge thrown at us by a healthcare company and a consultancy. Lucky me, I got picked as one of IESE's two reps.
Once we hit the ground, we formed a whole new crew with students from different schools to dive deep into this challenge. It was an eye-opener, to see how teamwork vibes vary in other schools. It also made me realize how much I'd grown during the intense MBA program at IESE. Plus, I made some awesome new friends from around the globe and got to explore bits of Mexico City on the side.
The other adventure was organizing the Japan Trek. We brought around 130 second-year students and their partners to different parts of Japan for a solid eight days in April. We kicked off the planning eight months in advance, and let me tell you, it was well worth it. Since it was my home turf, I succeeded in expanding my network. Right after the trek, I had a blast with my Peruvian classmate who had kindly guided me in Lima four months before, enjoying a Teppanyaki lunch in Tokyo. Good times!
I'm a huge European football fan, and I lucked out big time. FC Barcelona was on fire during my time there, making history. That meant I got to catch all the home matches of the UEFA Champions League and El Clasico at Camp Nou. Sometimes I went solo, other times with my classmates. It was a football fan's dream come true.
All in all, I can't thank the people I met, the program, and the city enough. It totally blew away my expectations!
admitStreet: Besides the online group webinars, how can applicants connect with the AdCom at a personal level, if they have any questions or clarifications?
Tomo: I really want to drive this point home – we're here and ready to chat. If you're keen on our MBA program, give us a little wave. You can start by downloading our MBA brochure or MBA Employment Report.
If you're curious about how you stack up, go ahead and request some Feedback on Profile. And, we're just a message away on LinkedIn or email. So, don't hesitate to use us as a resource.
Without knowing exactly what you're looking for, it's tough for us to tailor our approach. Take a second to find out who your point person is – we organize things by your country of residence to make things smooth. So, drop us a line anytime!
admitStreet: Thank you for your time and input, Tomo. We appreciate it and hope this will give our readers a comprehensive overview of the IESE MBA.
This article is part of bridgeStreet, an initiative by admitStreet to connect with the global B-school community.