The pursuit of a Master of Business Administration (MBA) is a transformative journey that holds immense potential for personal and professional growth. However, embarking on the MBA application process can be both exciting and daunting.
From standardized tests to essays and interviews, aspiring MBA candidates must navigate a series of tasks to present a compelling application. The key to success lies in establishing an ideal MBA application timeline that allows for thorough preparation and thoughtful execution.
The ideal MBA application timeline acts as a guiding compass, leading you through the various tasks and deadlines, from profile building to submitting the final application. By following this timeline, you can navigate the complex application process with confidence, maximizing your chances of securing a coveted spot in your dream business school.
What are the different tasks to be completed before submitting the MBA application?
Successfully submitting your MBA application involves several essential tasks. Each task plays a crucial role in presenting a comprehensive and compelling profile to the admissions committee. Here are the different tasks involved in the process:
Profile Building
Preparing for Standardized Test (GMAT/ GRE)
Researching Business Schools
Essay Writing
Creating Resume
Choosing Recommenders and Getting Letters of Recommendation
Completing Application Forms
Interview Preparation
Ideal MBA Application Timeline
Now, let's take a look at when these tasks should be completed in order to maximize your chances of getting an admit. The sequence of these tasks will help you create an ideal MBA application timeline.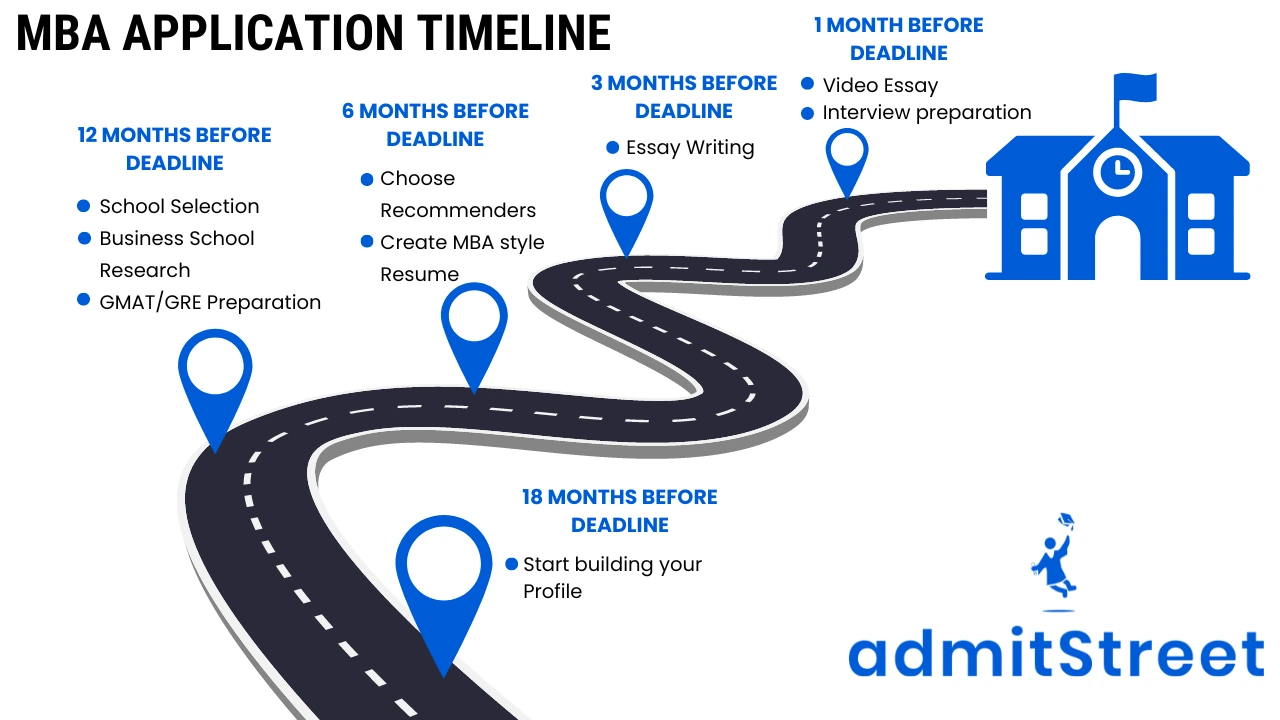 At least 18 months before the deadline
Start building your profile
This is the first step of the MBA application timeline. Before diving into your MBA applications, take some preparatory steps to strengthen your profile. Building an impressive MBA application takes time and effort, so start early. Consider factors like workplace experience, extracurricular activities, and networking opportunities. Take a look at this article on how to build your profile to know more.
12 Months Before the Deadline
School Selection
School selection is a critical step in the MBA application process as it directly impacts the chances of admission and the overall fit with the program. An MBA applicant should start the school selection process as early as possible, ideally around 12 to 18 months before the application deadlines. This early start allows sufficient time for comprehensive research and thoughtful consideration of various business schools.
Research Business Schools and Evaluate Your Competitiveness
Research various business schools to find the best fit for your academic and career goals. Compare the academic credentials of admitted students at different schools to assess your competitiveness in the applicant pool. Focus on schools that align with your aspirations and where you can submit a strong application.
It is essential to apply to a mix of business schools, including Ambitious schools, Reach schools, and Safe schools. Applying to a variety of schools increases your chances of acceptance if you construct each application thoughtfully. Avoid applying to too many schools, as it may result in subpar applications. In our experience, applying to 8-10 schools in total, across the Ambitious, Reach, and Safe categories is recommended for most candidates.
Visit the campuses of your prospective schools if possible or attend virtual events to get a sense of the environment and culture. This will help you determine if an MBA program is worth your investment.
Start Preparing for the GMAT or GRE
One key element in your application is the GMAT or GRE score. Most MBA programs require an official score as part of the application process. Begin preparing for the standardized exam at least 12 months before the application deadlines. This will give you the flexibility to retake the test if needed to achieve your target score.
6 months before the deadline
Choose Recommenders
Most MBA programs require 2-3 recommendation letters, and selecting the right recommenders is crucial. Choose individuals who can provide strong and enthusiastic support for your application. Build strong relationships with them, explaining why you're applying to business school, and since they will be busy people give them ample time to write the letters. Therefore, do this exercise at least 6 months before your deadline.
Crafting an MBA-Style Resume
The MBA resume differs from a regular job application resume. Instead of emphasizing specific skills for a job, it showcases your leadership abilities and achievements throughout your career. Use clear examples to illustrate your successes and highlight your impact in professional roles. Try and complete this task 6 months before the deadline.
At least 3 months before the deadline
Initiate Essay Writing
By this time you should be done with taking the GMAT or GRE and developing your profile. Now it's time to begin working on your essays. MBA programs typically release essay questions in May or shortly thereafter. Allocate sufficient time for brainstorming and reflecting on your career, goals, strengths, and impact.
Essays are a critical component of your application, providing insights into your personality, character, and potential fit within the program. Craft compelling narratives that demonstrate your motivation and aspirations.
At least 1 month before the deadline
Video Essays
In recent years, video essays have become an integral part of many business school applications. Although spontaneous, they require some preparation to ensure you shine on camera. Each school may have a different approach to video submissions. For example, Kellogg candidates must record their essays within a tight window after application submission. To avoid being caught off guard by unexpected questions or running out of time, it's wise to practice with sample prompts beforehand.
Start preparing for video essays at least one month before the deadline. Many applicants procrastinate until they submit their application, but we advise integrating video essay preparation with other application materials.
Interview Preparation
The interview component of your application typically depends on receiving an invitation. However, don't wait for that invitation to start preparing. The interview plays a significant role in the Admissions Committee's decision-making process, and early preparation is essential. Allocating time during September and October for interview readiness will set you up for success.
Final Thoughts
Crafting a strong MBA application demands careful planning, dedication, and a well-structured timeline. By following the MBA application timeline in this article, you can maximize your chances of securing admission to your dream business schools. From early profile building to strategic school selection, meticulous test preparation, and compelling essay writing, each step plays a vital role in presenting a comprehensive and compelling application. Remember, the journey to an MBA is not solely about reaching the destination, but also about the growth and self-discovery along the way. By adhering to a well-planned timeline, you can confidently embark on your MBA application journey, knowing you have taken every step necessary to unlock your true potential as a future business leader.
Get a free profile evaluation
If you would like a candid assessment of your profile, book your free profile evaluation session now.